Breast Surgery
Breast Augmentation – Click for photos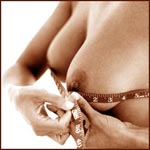 Breast augmentation is one of the most frequently performed cosmetic surgery procedures in the U.S. It can give women with small or unevenly-sized breasts a fuller, firmer, better-proportioned look through the placement of implants in the breast. Women may elect to undergo breast augmentation for many different medical and aesthetic motivations, including balancing breast size and compensating for reduced breast mass after pregnancy or surgery. The procedure may be combined with others such as a breast lift for more satisfying results. Implants are silicone shells filled with saline (salt water) or silicone gel and are placed behind each breast, underneath either breast tissue or the chest wall muscle. The procedure lasts one to two hours and is typically performed with general anesthesia. After surgery the patient's bustline may be increased by one or more cup sizes.
Breast Reduction (Reduction Mammoplasty) – Click for photos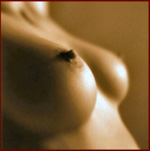 Large breasts can cause pain, improper posture, rashes, breathing problems, skeletal deformities, and low self-esteem. Breast reduction surgery is usually done to provide relief from these symptoms. Performed under general anesthesia, the two- to four-hour procedure removes fat and glandular tissue and tightens skin to produce smaller, lighter breasts that are in a healthier proportion to the rest of the body. Breast reduction surgery is not recommended for women who intend to breast-feed, since many of the milk ducts leading to the nipples are removed.

Breast Reconstruction – Click for photos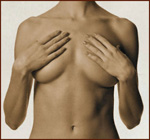 Modern surgical technology makes it possible to construct a natural-looking breast after mastectomy (breast removal) for cancer or other diseases. The procedure is commonly begun and sometimes completed immediately following mastectomy, so that the patient wakes with a new breast mound. Alternatively, reconstruction may begin years after mastectomy. There are several ways to reconstruct the breast, both with and without implants; your surgeon(s) should work together with you in deciding which is the best option for you. Breast reconstruction has no affect on the recurrence of cancer or other diseases, chemotherapy or radiation treatment.
Body
Tummy Tuck (Abdominoplasty) – Click for photos
Abdominoplasty helps to flatten and shape the abdomen and waist by removing excess fat and skin and tightening muscles. The best candidates have pockets of fat or loose skin that haven't responded well to diet and exercise. The procedure can also be useful for women with stretched skin and muscles from pregnancy.
Liposuction – Click for photos
One of the most popular cosmetic surgery procedures, liposuction sculpts the body by removing undesirable fat from areas such as the abdomen, waist, hips, buttocks, thighs, knees, chin, cheeks, neck and upper arms that have not responded to diet and exercise. Local anesthesia or general anesthesia may be used and the procedure can last anywhere from one to five hours depending on the amount of fat being removed.
Arm Lift (Brachioplasty) – Click for photos
After substantial weight loss, weight gain or simply from the effects of aging, skin on the upper arms can become inelastic, loose and flabby. Arm lifts, also known as brachioplasty, remove that excess skin and fat. Patients who have significant amounts of fat may want to consider combining the procedure with liposuction.
Face
Facelift
As the aging process begins, gravity and years of sun exposure can affect the quality of the facial skin. With time, creases can appear near the mouth, the jowls can develop along the jaw line and the neck develops loose skin and fat deposits.  A facelift (also known as a rhytidectomy) can counteract these aging signs. It works by tightening the skin of the lower face to smooth the deep creases or nasolabial lines, define the jaw line, reduce jowling, and correct sagging neck skin to give the face a more youthful appearance.
Upper and Lower Blepharoplasty
Blepharoplasty can rejuvenate puffy, sagging, or tired-looking eyes by removing excess fat and skin from the upper and lower eyelids. It may be performed for cosmetic reasons or to improve sight by lifting droopy eyelids out of the patient's field of vision.
Otoplasty & Earlobe Repair
Ear surgery (Otoplasty) can set prominent ears back closer to the head and reduce the size of large ears. Surgery may also be helpful for "lop ear," "cupped ear" and "shell ear," Large, stretched or torn earlobes, and lobes with creases and wrinkles can occur due to years of wearing heavy earrings or earlobe trauma. Earlobe repair surgery is usually performed as an in-office procedure with a local anesthetic.
Juvederm®
Juvederm Injectable Gel is a safe, effective gel composed of hyaluronic acid, that restores volume to the skin and smoothes moderate to severe facial wrinkles and folds. Juvederm is the first FDA-approved dermal filler proven safe and effective for persons of color. The Juvederm filler has a smooth consistency, allowing for easy injections and instant, natural-looking results. The following are the different types of filler offered:
Juvéderm Voluma® XC, used to volumize, lift, and contour cheeks
Juvéderm® Ultra XC and Juvéderm Volbella® XC, used to plump and add fullness and smoothness to lips
Juvéderm® XC and Juvéderm Vollure™ XC, used to reduce and soften lines and wrinkles around the nose and mouth
Topical anesthesia may be used during this procedure to numb the treatment area and minimize any potential discomfort. The results of this procedure are available right away and can usually last for up to 1 year.
BOTOX®
As time passes our skin shows the natural, inevitable signs of aging – wrinkles and sagging. But you can counteract those effects with several non-surgical cosmetic procedures available at our practice, including BOTOX®, to smooth lines and wrinkles and raise sunken areas.